Epson America today launched its next-generation direct-to-garment printer, the 
SureColor

–

F2100
(MSRP $17,995).
Designed exclusively for direct-to-garment printing, Epson says the SureColor F2100 offers an entirely purpose-built system for high-quality prints at production speeds. Leveraging the Epson PrecisionCore TFP inkj-jet print head and UltraChrome DG garment ink technology, the SureColor F2100 achieves up to twice the speeds of the previous generation DTG printer1 Successor to the SureColor F2000, the new SureColor F2100 offers four-color CYMK ink printing, plus white ink, for improved image quality, speed, and efficiency. Other improvements, including a quick-load platen and robust Epson Garment Creator Software, are said take productivity even further, while the all-new integrated self-cleaning system means less downtime.
"The SureColor F2000 is the number-one selling direct-to-garment printer in the market and has helped customers increase efficiency on short-run orders and expand product service offerings. We listened to our customers and addressed common direct-to-garment pain points with the new SureColor F2100," said Tim Check, senior product manager, Professional Imaging, Epson America, Inc. "The SC-F2100 delivers on reduced maintenance, while providing increased speed and efficiency with newly developed print modes to help customers increase business needs."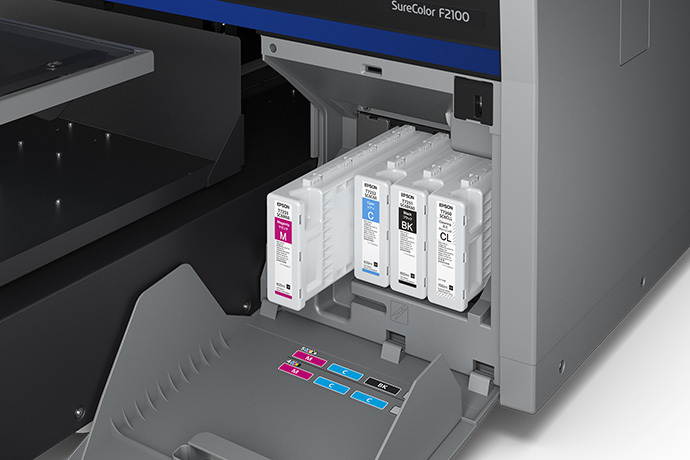 Building on the EpsonSureColor F2000, the new SureColor F2100 leverages an all-new integrated inline self-cleaning system designed for reliability and reduced maintenance time. The SureColor F2100 transports cleaning solution through the print head, allowing the printer to perform daily maintenance to reduce downtime. In addition, White ink is triple filtered before reaching the print head, designed to help reduce White ink nozzle clogging for greater up-time and reliability.
The SureColor F2100 features Epson PrecisionDot technology designed to create output with smoother tonal gradations, improved image detail and preservation on the garment. Newly developed print modes, including Light Garment Mode, and Highlight White mode, are said to provide consistent print quality. All-new Highlight White mode achieves brighter White ink output by applying a second coat of White ink, while simultaneously printing color ink for improved print speeds. With a new garment grip pad, the SureColor F2100 is said to enable users to quickly load and unload garments on the printer platen to help reduce traditional hoop platen load times.
With the ability to print directly onto garments ranging from 100 percent cotton to 50/50 fabric blends – t-shirts, hoodies, jackets, tote bags, and more – the SureColor F2100 offers advanced features for the direct-to-garment industry, including:
High-Quality Direct-to-Garment Printing – Epson UltraChrome DG inks are said to be durable, vibrant, and safe, with outstanding color performance, plus equal pricing for color and White inks.
Up to Twice as Fast – Newly developed print modes, including Light Garment Mode, offer consistent print quality at up to twice the speed of the previous generation

.

Highlight White Ink Mode – Developed exclusively for the SureColor F2100, this unique feature offers simultaneous printing of White and color inks on the color pass for greatly improved image quality, speed, and efficiency.
Fast Loading for More Productivity – The easy-to-use, all-new quick-load platen reduces traditional hoop platen load times
Intuitive, Easy-to-Learn Workflow – Improved Epson Garment Creator Software, available for Apple Mac OS and Microsoft Windows, includes powerful tools for layout and text, color management, ink control, cost estimation, plus hot folders.
Designed Exclusively for Direct-to-Garment Printing – An entirely purpose-built system featuring Epson's PrecisionCore TFP print head, Epson UltraChrome DG ink system and robust hardware.
Reduced Maintenance Time and Operational Cost – Featuring a fabric wiper and an in-line cleaning cartridge, the integrated self-cleaning system allows the printer to perform daily maintenance to reduce downtime.
Backed by Industry-Leading Support – Includes a 1-year limited on-site warranty with U.S.-based phone support; an optional extended on-site service place is available
The SureColor F2100 offers a standard Epson Preferred Limited Warranty, limited on-site warranty with U.S.-based phone support; an optional extended on-site service plan is available. It will be available in March 2018 through Epson DTG Authorized Professional Imaging Resellers.
For more information and complete specifications, visit Epson here.
Epson and CIT Partner to Provide Streamlined Financing Options for Commercial and Digital Print Customers
Epson America also announced that it and partner CIT Direct Capital, the national digital small business lending unit of CIT Group, are offering financing for commercial and digital print customers. This partnership will allow CIT Direct Capital to provide Epson dealers, channel partners, resellers, and customers a primary source of financing through a single point of contact. Epson says this will simplify its financing process by streamlining communication between equipment manufacturers, dealers and funding sources, creating a more straightforward customer experience.
The Imprinted Sportswear Show (ISS) Long Beach, the decorated apparel expo and conference, marks the commencement of an Epson and CIT Direct Capital leasing program. Both Epson (booth #1949) and CIT Direct Capital (booth #2530) will be exhibiting at ISS Long Beach from January 19-21, 2018.
"CIT is pleased to provide Epson dealers with a single online finance solution that enhances the customer experience," said Mark Boyer, vice president of business development, CIT Direct Capital. "By maximizing efficiency and providing greater transparency on transactions, dealers can focus more attention on their clients and business objectives."
The partnership provides Epson dealers with the ability to provide a uniform online finance option through CIT Direct Capital, delivering better insight into the sales pipeline and increased transparency on transactions. Financing through CIT Direct Capital is a tech-enabled process, allowing customers to apply online in minutes and often get approvals within seconds. This approach makes it easy for customers to determine product availability and cash flow, freeing them to focus on daily tasks and meeting client needs.
"Epson strives to provide our customers with every avenue to success and provide support on all aspects of the purchase, from selecting the equipment, purchasing, maintenance, and warranty," said Mark Mathews, vice president, Epson America, Inc. "Partnering with CIT Direct Capital provides the ability for Epson to offer a variety of acquisition methods to our customers, ensuring they can select the method that best fits their financial and business needs."
For more information on Epson and CIT Direct Capital financing options, visit Epson here.
More Resources